The UK Bungee Club offers jumps at 120ft, 160ft or the terrifying 300ft in a range of incredible locations.
Please check the listings to see if there is anything near you that tempts you to take the leap.
Multiple dates available throughout the year.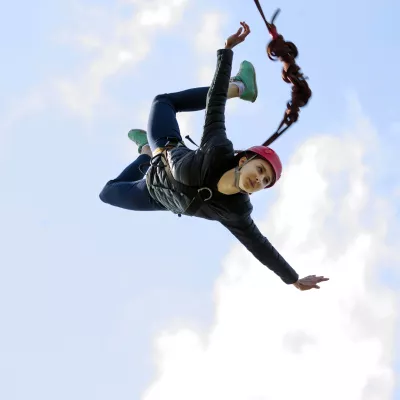 Together, we create possible. ​
Epilepsy can be one of the most frightening and isolating conditions a young person can experience. The loss of any sense of safety, trapped in an unpredictable world, not knowing when their next seizure will happen. All this takes its toll on a child's mental and physical health, and they miss out. You can help change that.  ​
Show your support and help create a future where young people with epilepsy are heard, and they get the support they need, when they need it, no matter what.​
What do we do? 
Children and young people with epilepsy have a right to be heard. We listen, and we work with them to make their lives better. We coordinate research that advances diagnostics and treatments. We campaign for children's rights to access healthcare and education, and we provide innovative tools, information, and practical support for living everyday life. 
Children and young people are actively involved in developing all our services, ensuring that young people are at the heart of everything we do.
If you wish to register your interest or have any questions, please email us supportercare@youngepilepsy.org.uk or call us on 01342 831245